Herbal Therapy Hand Sanitiser Gel with Aloe Vera contains 70% Alcohol which ensures it Kills 99.99% of all bacteria and viruses.
Our hand sanitiser gel products have been certified by the Irish Department of Agriculture with PCS No 100562.
All Prices are Inclusive of Vat! No hidden Costs.
Our Hand Sanitiser Gel Bottles are sold Individually or Per Box with reduced Pricing!
Shipping is €5 across Ireland
Herbal Therapy hand sanitising gel has also been independently tested in an Irish Laboratory where an irritancy data and allergy test was completed. The result of this test was that our sanitising gel was at a similar level to Johnson's Baby Oil in terms of any potential harshness to the skin.
Johnson's Baby Oil >0.25%  compared to Herbal Therapy Hand Sanitiser Gel >0.30%
This is due to the Aloe Vera and other high quality rich active ingredients contained in our formula.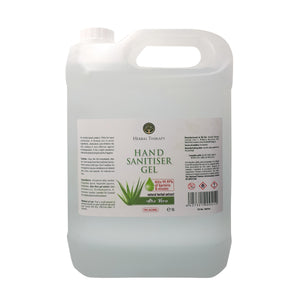 Aloe Vera Hand Sanitiser Gel 5 Litre x 3 Bottles per box - €15.00 Each Inc Vat
Regular price
€45,00
Unit price
per
Tax included.
Shipping
calculated at checkout.
Full details →
---
Share this Product
Herbal Therapy hand sanitiser gel has a 70% alcohol content ensuring it kills 99.99% of bacteria and viruses, while also containing Aloe Vera and many other essential oils and herbal ingredients.
Aloe Vera contains natural moisturisers that help retain moisture on dry and rough skin. The Aloe Vera in our hand sanitiser will remain and form a protective layer on your skin after use.
Linalool is a colourless liquid with a soft, sweet odour. It occurs naturally in many essential oils and has a soft, sweet scent.
Lavender Oil is an Anti-inflammatory Superstar. It is used on the skin to help reduce redness and it's anti-inflammatory properties make it great for soothing and healing irritated skin.
Essential oils have many antiseptic properties.
Vegetable glycerin is a clear, odorless and sweet-tasting liquid derived from vegetable fats. It offer's health benefits, such as moisturised and resilient skin.
Propylene glycol is used on the skin to retain and preserve moisture.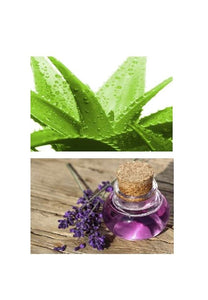 Hand Sanitiser Gel Collection
Certified by the Irish Department of Agriculture
Sales of hand sanitisers have recently soared. It has become such a sought after product that many hand sanitisers have recently come to the market which are of questionable quality, over priced and have not received the required certification by the Irish Department of Agriculture.
Herbal Therapy Hand Sanitiser Gel has received full certification from the Department of Agriculture with PCS number 100562